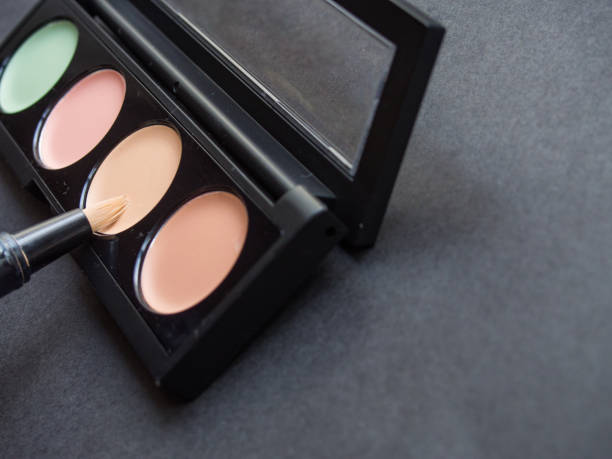 Use color theory to achieve your complexion goals. Luckily, these liquid and cream formulas from brands like Dr. Jart+, Live Tinted, and Nars come in green, peach, and orange hues to neutralize unwanted discoloration.
There's nothing more confusing than applying a full face of makeup and noticing that your skin hasn't quite reached what you wanted. Maybe the bags under your eyes are betraying a full night's rest or you're experiencing a bout of hyperpigmentation. Whatever the reason, achieving your desired complexion goals is within reach. Addressing these variations in your complexion can't always be solved with concealer or foundation, but that's where a great color corrector — and knowing how to use it properly — comes into play.
Unlike a concealer that matches your skin tone, color correctors approach discoloration with color theory. "Color corrector is used to neutralize deep pigmentation, whereas concealer is great for covering dark circles and blemishes," says Mali Thomas, a global artist in residence for Bobbi Brown who has worked with Kelly Rowland, Tiffany Haddish, and more of your favorite celebrities. Consider color correctors as an advanced treatment to meet your needs when the coverage you're looking for isn't attainable through your typical complexion products.
"It's all color theory," explains Jen Tioseco, a makeup artist behind the faces of Madelaine Petsch and Zoey Deutch. "Skip the lipstick trick you've seen on TikTok and grab a product specifically formulated for the task." Looking at the color wheel, you can strategically use the opposite color of the unwanted tones you want to cancel out. "Using a peach corrector underneath the eye will neutralize any blue discoloration underneath the eyes that can sometimes peek through if you just use concealer," says Tioseco. "Same thing [goes] for extra redness — green is the opposite [of] red on the color wheel and will neutralize redness caused by rosacea or blemishes."
Because color correctors come in tones of greens, peaches, and reds, the application process is not for the faint-hearted and should be applied with discretion. Gently pat your corrector onto unwanted tones after skin care, but before concealer or foundation. "A common mistake I've noticed is the use of too much product," Thomas notes. "Only use color correctors in areas where there is discoloration to create a more natural canvas." Tioseco echoes the same sentiments: "When using a color corrector less is more — remember the more corrector you use, the more concealer/foundation is needed to cover it!"
WATCHEvery Method of Self-Tanning (12 Methods)
Now that you know all about color theory and how to effectively apply color correctors, read on for our experts' personal recommendations and Allure's ultimate favorites below.
Liquid Color Correctors
While this product isn't technically a color corrector, Dr. Jart+'s TikTok-viral Cicapair Tiger Grass Color Correcting Treatment SPF 30 is a must-have for long-term results. It's a great option for those who don't necessarily want to wear any base makeup, as the formula is devoted to treating inflammation, irritation, or discomfort that causes redness — thanks to the herbal plant extract Centella asiatica leaf water.
If you're battling all-over redness, a neutralizing primer like Smashbox's Photo Finish Correct Anti-Redness Face Primer — you might recognize its Best of Beauty-winning siblings, Primerizer+ Super Hydrating and Control Mattifying — might be the solution for you. It includes soothing ingredients like hyaluronic acid, algae, rose, and mushroom to calm stressed-out skin and minimize redness.
For a color corrector in a lightweight formula, try NYX Professional Makeup's popular drugstore pick, the Studio Perfect Color Correcting Primer. It's thinner than most on the market because it's intended as a full-face primer, but you can build it up to your desired level of coverage. This is available in two color-correcting shades: green for redness, and lavender for sallowness.
Nars Radiant Creamy Color Corrector is Tioseco's "absolute favorite for the under eyes." She notes that it's "thin enough to where it blends seamlessly into the skin but dries down [quickly], making putting concealer on top a breeze." Not only does this Nars option come in a range of red hues for all complexions, but it also includes micropowders that fill fine lines for a smoother look, which is why it's so ideal for layering makeup.
"Lancôme's Teint Idole Ultra Wear Camouflage Corrector is my go-to for clients with redness in their skin," says Tioseco. "The consistency is like a second skin." This full-coverage corrector also comes in shades of lilac for brightening sallowness, yellow to combat dullness, and a range of oranges for all skin tones to address dark circles and acne scars. Even better, this pigmented formula works for all skin types.
Thomas recommends correctors in "deep warm tones (preferably deep orange) for women of color to mask hyperpigmentation." And if you've ever spent time on Danessa Myricks's Instagram watching her mesmerizing tutorials on how to apply her Best of Beauty-winning Colorfix tubes, you know it is a workhorse of a product that can be used across eyes, lips, and cheeks. The shade Carrot Top, in particular, is extremely popular as a color corrector for deeper complexions.
L.A. Girl's Pro Conceal HD Concealer is the stuff of legends. Its full range includes 43 colors, 10 of which are intended for color-correcting. The green tint, in particular, is approved by TikTok's own Mikayla Nogueira, who used this exact product to address red spots. In her video, she suggests tapping on this green concealer to the areas you want to neutralize, setting it with loose powder, and then going over with your regular, skin-tone concealer before applying foundation.
To brighten under eyes on a budget, try Milani's Supercharge Undereye Tint. It not only reduces darkness due in part to its packed formula of hyaluronic acid, plant-based collagen, niacinamide, and caffeine, but it's also packed with shimmery micro-pearls that help bounce light away, thus illuminating the area.
Cream Color Correctors
If anyone knows good skin, it's Rihanna. Her tight edit of Fenty Beauty Match Stix Corrector Skinsticks is best used for brightening your under eye bags. This product is only available in four color-correcting shades but is meant to be worn in tandem with your concealer.
While you could use this Best of Beauty-winning Live Tinted Huestick Corrector for dark, blueish areas, it also acts as a four-in-one eye, lip, and cheek multistick. We love a product with range, especially one that glides on as easy as this does. This finish is semi-matte with hydrating ingredients like hyaluronic acid, squalane, and vitamin E, the Huestick Corrector has a soft, semi-matte finish that won't look cakey. It also introduces a dose of vitamin C to help brighten dark spots over time.
Bobbi Brown's Skin Corrector Stick is one of Thomas's go-to products, which acts as a combined color corrector and concealer in one swipe. Its inclusive, 12-color shade range means that a vast selection of undertones is available to camouflage dark spots. Made with coffee seed extract, it will literally wake up your under eyes, while the addition of salicornia (a type of succulent) provides moisture.
Conceal pigmentation with Charlotte Tilbury's easy-to-use Magic Vanish! Color Corrector. Available in four shades of orangish reds, this creamy formula comes in a small pot and is best applied with your own fingers, thanks in part to its buttery texture made with carnauba wax. What's not to love?
When you spot a Ben Nye Mojave Adjuster Wheel in someone's makeup bag, it's a good indicator that they know what they're doing. It's a film and television makeup artist's gold standard, thanks to its matte, pigmented formula. Thomas herself is a fan. "I like to use Bobbi Brown Skin Full Cover Concealer for concealing, and the Ben Nye Mojave Adjuster Wheel for color-correcting," she states. This palette in particular is great for deeper skin tones.
Read & Write : write for us