The criteria for a quality of life also encompasses the time which is spent at workplaces. This concept has led to conceptualization and development of work condition criteria in order to accentuate physical office environments. Advancement is made in office fit-outs and refurbishments so the understanding and awareness about interior designs are increased. A large number of people are these days working in home offices as well which further makes the job of commercial office fit out specialists significant.
There are many considerations worth pondering upon when designing interior office spaces. The Interior offices partitions are help create a planned and organized environment. All offices have their individual need of design where furniture, equipments, tools, gadgets, chairs and tables must be accommodated properly. The spaces must be designed strategically so that space can be utilized to its maximum. One of the best solutions found these days is using interior office partitions. They are cheaper and flexible walls give employees the desired privacy. Depending upon the requirement and budget you can find different types of office partitions.
A Healthy Work Environment with Office Partition Choices
1) Floor to The Ceiling Partitions – One of the very popular office partitions is the floor to the ceiling types where an image of the room is created. So, the height of the ceiling here adds to the privacy element of it. These are the bestinterior office partitions applicable for meeting spaces or conference hall where disturbances from other co-workers are not required. Floor to the ceiling based office partitions are created using metal, glass, aluminum, wood-based laminated frames, gypsum based dry walls or others.
2) Glass Office Partitions- Glass is one of the most widely used interior office partitions in the world. One can add frosted or oriented mate glass or even Venetian blinds over the glass to add more element of privacy to these partitions. The entire height of these partition panes can be different. To make things look attractive you can choose from a wide variety of textures and designs of glass.
3) Cubicle Design- Interior office partitions are also used for making cubicles or divisions of the office floor. So, private small workspaces can be created as per the specific needs of the organization. Cubicles are usually enclosed from three sides. On the fourth wall, an entrance is created. These are extremely flexible and portable and can be literally shifted from one place to another. These spaces do allow hand and free movement and add a great variety to the monotony of interior office spaces.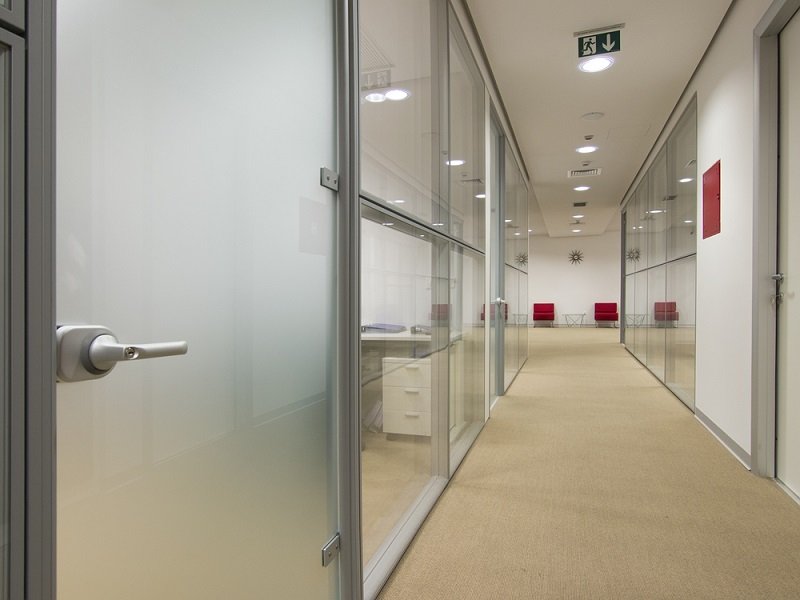 4) Style and Safety Goes Hand in Hand – Adding style with office partitions can make an office a refreshing space. Often office fit out specialists use partitions and gives you a choice of finishes so as to give it a rich appearance. The elaborate use of design and materials can further help the interior stand out among other office interiors architectures. These days' nonflammable products are used when manufacturing office partitions. So, there is a safety element added to these interior office partitions as well.
Conclusion
Factory premises often use office partitions to create offices on factory floors. These are made with soundproof materials and hence the interior of the office never witnesses the sound of heavy machines on the factory floors. The installation of office partitions varies based on space and requirement. The choice of interior office partitions will depend on the budget and the time one can allow for the work. Overall it is recommended to hire a reputed specialist who has a good amount of experience in such jobs. It is always important to check out real-time partitions to better understand the style you need for your office.
You may like these article: Renovation company in Dubai, Painting Services in Dubai , Rental properties