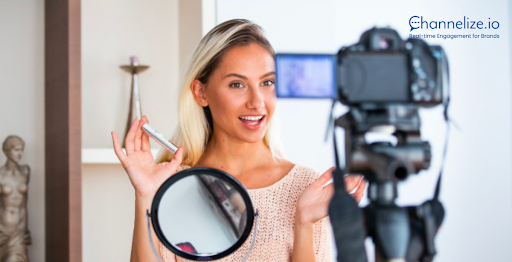 The notion of Live stream e-commerce goes back to the 80s QVC's when hosts like Lisa Robertson used to casually chat with viewers while showcasing jewelry. Shoppers used to watch the shows on their television and used to place orders by calling in. Live stream shopping is the modern and improved version of QVC. Live Shopping leverages video streaming tools to demonstrate products, communicate with sellers, and sell, in real-time. Although the trend of live video shopping was introduced a long time ago, the pandemic accelerated its growth.
With the coming of the COVID-19 pandemic, many brands had to figure out ways to overcome barriers to physical store shopping. One way to achieve this was through live streaming shopping. Live shopping allows sellers to have their own live shopping platform wherein they can interact with their customers in a personalized manner and sell in real-time. Live stream e-commerce is a combination of entertainment and e-commerce. "It's basically digitizing QVC and HSN.
By incorporating Live online shopping, viewers are able to ask questions live, clear their queries and shop in real-time. Hence eCommerce brands in the industry are shifting to live online shopping platforms.
The present live commerce craze has its roots in China in the mid-2010s. During this time influences, celebrities, and industry experts began using live stream shopping apps to take their fans with them as they traveled to different boutiques. They showcased products and explained their details all in real-time. These virtual journeys offered shoppers a glimpse of exotic locations with the option to discover and buy products that were not readily available in China.
On Singles Day 2019, a live shopping show was hosted by popular influence Viya that attracted more than 43 million customers. This determined the success of live video shopping in China and thereafter the trend spread to the west.
Brands and retailers jumping into live commerce need to learn that live video shopping is about more than the latest technology or the influencer of the moment. The key to success here is to facilitate customer engagement.
Benefits of Live stream e-commerce
Greater audience reach
Physical events are usually limited to space and location. With live shopping, however, you can invite as many audiences as you want. Furthermore, live online shopping shows eliminate the restrictions imposed by the pandemic. Hence audiences can now virtually be a part of your live shopping show and shop by sitting at home.
Brands can effortlessly reach anyone in the world remotely through a live video shopping platform, as you are no longer limited by geographical or size constraints.
Convenient
Conducting live stream shopping shows can be very simple. All you need are relevant video and audio equipment, an internet connection, and a reliable Live stream e-commerce platform. Channelize.io live shopping platform is one such platform that can help you engage your audience in a human way and eventually lead to sales.
We also provide in-depth documentation, eBooks, tutorials, and blogs to help you learn more about how to leverage live shopping to gain success.
Audience interaction
Face-to-face interaction always plays a vital role in depicting brand authenticity and enables businesses to humanize themselves and connect with their audience. With live shopping, you can more effectively tell your brand's story and its values. For businesses that engage in live shopping shows with question and answer sessions, this allows audiences from home to participate and build relationships with a brand.
Live stream e-commerce is a direct and personal connection to every individual shopper present in a live shopping show. This is the digital equivalent of bringing brands into shoppers' homes.
Strong sales conversion
Live shopping shows can provide better sales conversions than other event types. Businesses that offer eCommerce products or services can profit from live video shopping. Also, it is easy to integrate promotional offers, deals, and discounts with your live shopping show, which can instantly boost large numbers of sales.
Apart from this, live shopping can also be used in marketing as a valuable tool along the buyer's journey. It allows you to create new business opportunities by connecting with your shoppers in a unique and effective way.
Wrapping it up
With the technology shifting fast, brands now have a number of choices when it comes to implementing effective sales strategies. One of the most sought-after creative plans today is live stream shopping. If you haven't yet started with it, this is the right time to jump onto this trend.