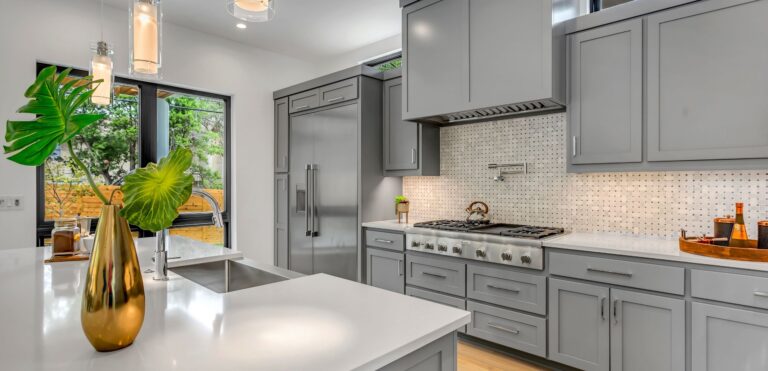 Have a kitchen renovation planned on your calendar? You've probably already taken off work and secured all the necessary materials and hands-on deck to assist you with your kitchen renovation, right? Either way, you might be looking for some design inspiration to use in your kitchen design this year. Here are some popular kitchen themes that you can use in your upcoming renovation!
Farmhouse Theme. Always a classic, farmhouse-style design remained the top most searched interior design style in 2021. The farmhouse theme tends to combine rustic design elements with practical technologies to make kitchen design effective yet eye-catching. You'll find pale-toned kitchen cabinets with black hardware and a smooth countertop as the common major design elements of this theme. Other elements of farmhouse designs include the infamous farmhouse sink — a large, one bowl sink that's very deep. It allows for the washing of meat and produce since the sink was created with farm life needs in mind. However, you don't have to own a farmhouse to use this design style! Complete the farmhouse look with rustic accent decors, such as wagon wheels or other wooden elements. Bonus points if it looks ashen or slightly worn!
Read more about renovation: villa renovation dubai
Industrial Theme. Another popular design theme, industrial kitchens blend unique elements to create an industrial look. The goal for an industrial theme is to have a space that brings together various textures, patterns, and colors to give the space a vibe reminiscent of the industrial era. An industrial kitchen might have a pop of color through some two-toned cabinets, splurge on cement countertops or have a high gloss finish for the cabinet faces. Ideally, an industrial design would incorporate mixed metals and a lot of neutrals in the bulk of the design, using brighter colors as accents throughout. The industrial theme is great for homes that are near urban areas or are even in the hustle and bustle of the city. You can easily identify an industrial look by whether or not there's exposed brick in the space. If so, there's a pretty good chance you're looking at an industrial theme.
French Countryside Theme. The French countryside is idyllic and serene for many people. This design theme is great for kitchens because it blends the modern and the vintage together well. Featuring soft colors, usually ivory and black, along with pastels or other floral elements, the French countryside design theme will have you baking macarons all day in your fun kitchen. While the kitchen cabinets and countertops might be neutral in color, many of the other accents (curtains, towels, etc.) would embrace bright floral patterns that speak for the outdoors. Since the French are known culturally for their luxurious taste in design, don't hesitate to incorporate some more elevated elements to your French countryside design. This will really show your adherence to the theme. Think fleur-de-lis, peonies, and even some high-backed chairs with a floral pattern cushion.
Bohemian Theme. The Bohemian theme embraces unique patterns, colors, and textures to display a level of culture not many other design themes have. Deep jewel tones are common in the Bohemian theme, contrasted and held in place by a grounding neutral brown. Wood is the main accent material here — wood and wicker. These two natural elements help to tone down the boldness of the various jewel tones, yet also lend to the Bohemian idea of natural. Wicker basket pendant lights, neutral brown leather barstools, and a fun mosaic tile backsplash are all cornerstones of a Bohemian design style. Perfect in the kitchen of the well-traveled homeowner or someone who really feels a connection to the design aesthetic.
Modern Theme. A Modern design theme uses lines to create unique layouts. Whether adding geometric patterns to the walls or floors, modern design or using high gloss finished cabinets to make the entire space feel shiny and new, a Modern theme is great for the homeowner who is really looking to elevate their tech game. Modern designs pull from sci-fi-themed designs as well, making the spaces seem out of this world. Homeowners who elect for a modern home design are very much visionaries and lean towards a futuristic approach. Since some of these items are more expensive, consider cutting back costs by installing RTA cabinets.
Vintage Theme. Do you own an older or historic home? Why not restore the kitchen to its former glory instead of trying to make it a modern space? Refurbish the appliance or find "new" ones at local antique stores, incorporate the design elements of the era your home was first built and utilize the color palette from previous eras to really make the space feel vintage or retro. If designing a '50s kitchen, don't forget the bubblegum pinks or the lime-jello shades of green in these spaces. Of course, you can add a modern flair with some butcher block countertops or even a wooden floor instead of a penny tile.
Coastal Theme. Who doesn't want to live in a beach house? Sure, maybe living at the beach isn't your thing, but you've got to admit that the beach house design style has some value to it. Clean, simple lines and shades of blue, gray, and even orange make for beautiful designs. Coastal themes incorporate lots of natural elements, too — birchwood or any gray ash wood as well as anything from the sea, such as seashells, sand dollars, dried out coral… you name it. If it came from the ocean, there's a chance it will have a space in the Coastal design theme.
Minimalism. Minimalist designs focus on the "less is more" aspect of life. That's not to say the things in the minimalist design aren't high quality. In fact, most aspects of minimalism actually include luxury. This is simply because the entire thought process is about prioritizing the things that matter and ensuring those things are of the highest quality. Minimalism is similar to Modern design aesthetics because it includes clean, simple lines typically in geometric patterns. However, minimalism tends to use less than a certain number of colors. Instead, it focuses on a few colors to create texture through a pattern.
Read more about painting : painter in dubai