The term "lemonade braids" was coined in 2016, when Beyoncé released her Lemonade visual album. On its cover, she was wearing her braids to the back, and this hairstyle quickly became a staple among her fans. If you like lemonade braids hairstyles you can rock them with extensions or without. This article will give an exhaustive answer to the question "What are lemonade braids?", show you plenty of images of lemonade braids, and inspire you to create your unique style.
Lemonade braids are one of the most popular braid styles among women all over the world. These hairstyles gained more popularity after Beyonce made it her patent hairstyle in her Lemonade album. This braid enhances your beauty and brings out the glow in your face. These styles are going to last long, and hence you can easily rock them repeatedly. All you need to do is change from one form to the other.
Short Lemonade Braids.
Short-to-medium size braids are light and comfortable. After washing, they dry in a minute. It's also a good option for the kids who get their hair braided for the first time.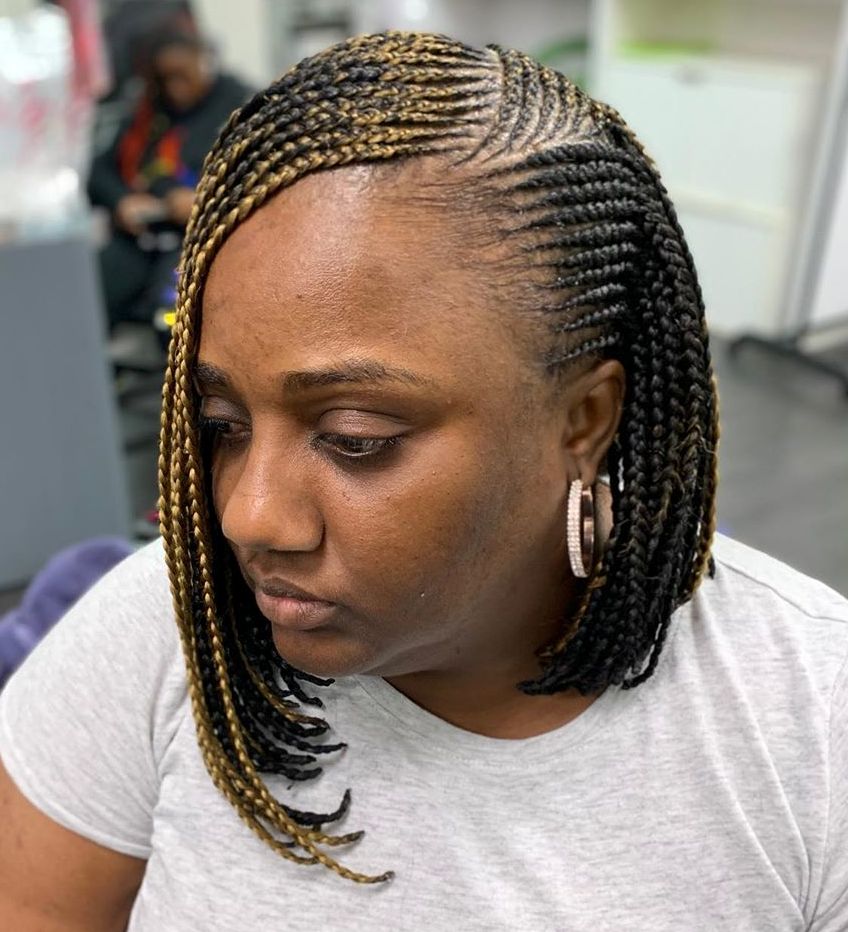 Burgundy Lemonade Braids.
Ladies in their 40s like classy and refined shades of burgundy. Check the photo below – this burgundy is bright but not provocative.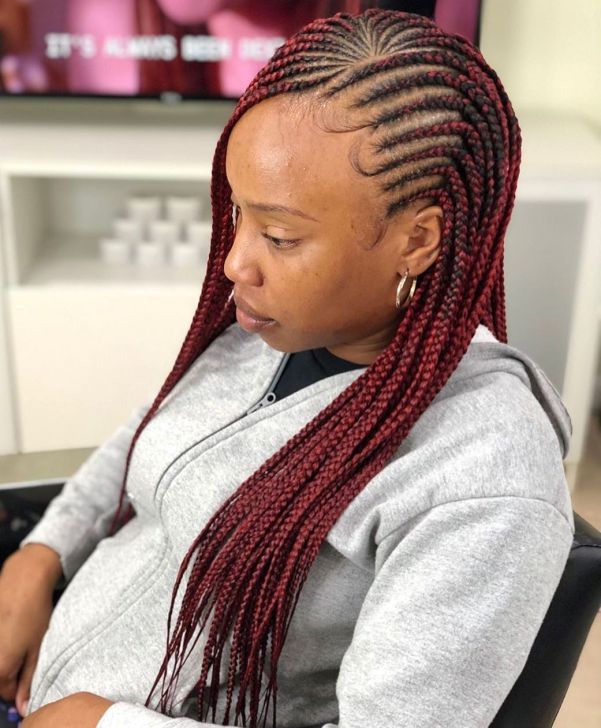 Lemonade Box Braids Asymmetrical Bob.
For those who like shorter yet showy braids. Your hairstyle will preserve a clear geometrical shape and will always remain structured.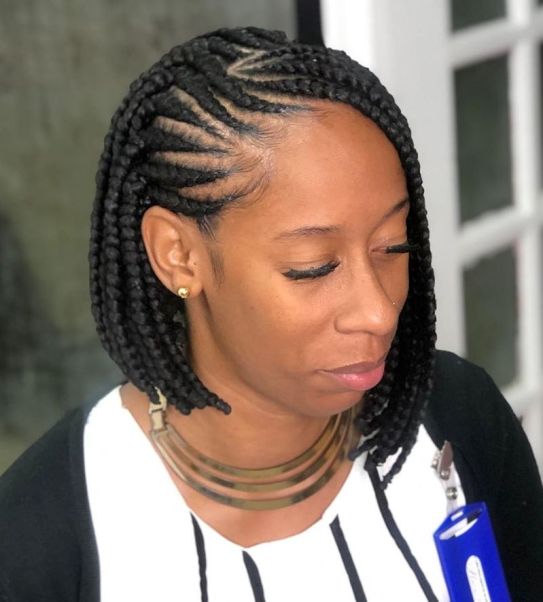 Black Braids in a High Ponytail.
There is so much going on with these feed-in braids. First, you have cornrows, then, you have a touch of color, and finally, everything gets into a high ponytail with a wraparound.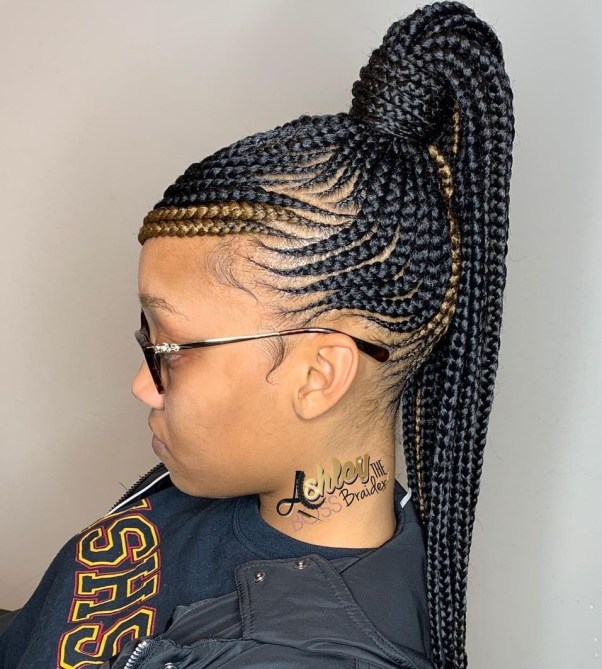 Jumbo lemonade braids
These are super glamorous braids that can be decorated using gold accessories. The braids are lengthy and sit on the sides. The gold accessory when put looks super stylish and gives the braids an exclusive look. These inspired braids will help make a statement and get you noticed.
Vibrant purple colored lemonade braids
This is a trendy hairstyle that comprises of a vibrant purple color tone through each of the twists. Purple makes the hair looks exceptionally dynamic and stylish. The braids can be recreated using any color. So choose your favorite shade and recreate the look.
Chunky braids
This is the next braided style, especially for babies who prefer a bold look. The hairstyle is created using side braids, having different thicknesses. These braids are skinny, and when combined with big lemonade braids, it makes it look all the more trendy. You can recreate the look with the help if braid of any size.
Jumbo size braids
This is the next braid style where the braids are worn on one side, having a combo of extremely thick and thin braids. You can have a braid of any length, however with a trendy Beyonce vibe; you need to choose long braids.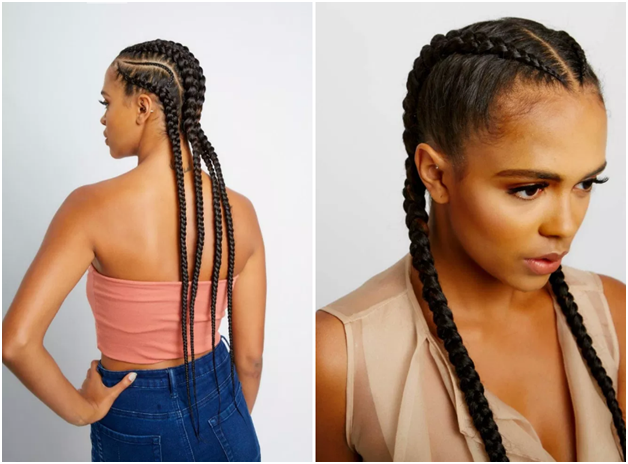 Side Braids
The summer is here, and this is when most women change their hairstyle to be in tune with the new season. This style is trending on Tumblr at the moment. One of the favorite ways of doing it is by adding color to the lemonade braids. A warm blonde tone can also be added. Lighter colors help jazz up your look and help you sport a unique look in the summers.
Zig-zag braids
Apart from new colors, patterns also help to give your hair a very stylish look. The zig-zag model can be designed by braiding hair in a thin strands zig-zag manner. This helps provide the braids with a unique look. There are varied ways to braid your hair; hence you can try as many different looks as you want.
Lemonade braids using cuffs
This is the next lemonade braid inspired style that features thin side braids. You can accessorize them with trendy cuffs. Braid cuffs give the most stylish finishing touch to the twists. You can get the cuffs in various sizes, colors, and designs. These endless options help you create a unique hairstyle that compliments your look.
Lemonade braids of warm tone
Some of the lemonade braids with color have been already mentioned above, and this is a similar one. This is just another example of how adding different colors help to create a unique look. This fantastic side braid style has warm shade running all through your hair. A lighter shade helps in brightening up the look for summer and spring.
Long jumbo braids
Jumbo lemonade braids are the thicker versions of Lemonade versions which are very smooth and neat. The braids are quite long, and this is the best thing about it. Longer braids help give you a transcending and edgy look that is loved by Beyonce.
Lemonade braids using beads
Beads help add boho vibes to your hair. Add a few vibes to your braids that help sport a bohemian look. There are various beads available in the market for you to choose from. Whatever the style may be, make sure the size is selected that help glides seamlessly over the locks.
Jumbo Triangle braid
This braid style has an edgy style and is ideal for those who wish to stand out from the rest. The hair is divided into multiple sections and braids are done accordingly. A fun and unique look await you.
Ponytail Braid
This is another kind of lemonade braid style where you need to pull the hair up in a high ponytail, by leaving a few small sections out. The sections need to be wrapped around the ponytail base while securing it using a bobby pin. You can leave a few locks around the face that help to give a fresh look.
Conclusion
We all love the braided look, and we know you do it too. These lemonade braid hairstyles continue to inspire women across the world on Tumblr.