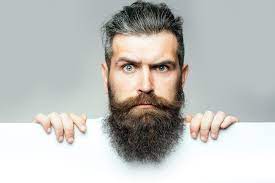 Are beards in for 2023? Totally yes, and that means it's time to refresh your look. Facial hair changes the shape of a man's face and completely modifies the way he looks, so give up on the traditional shape that you used to wear and give a try to the best beard styles in 2023.
A survey conducted by OnePoll on behalf of Honest Amish concluded that about 33% of American males have facial hair of some kind, while 55% of males worldwide have facial hair. Women found full-bearded men to be only 2/3rd as attractive as clean-shaven men.
Also, a YouGov survey showed that the popularity of beards has only increased since 2011, with over 40% of British men now sporting some kind of facial fuzz, with a full beard remaining the most popular option.
In this article, I'm going to show you which are the most popular beard styles in 2023 that will surely add some style to your look. You can experiment as much as you want in order to find what really looks good on you, then make that look your signature.
How many beard types are there?
There are a lot of different beard styles for men. While it may seem like there are only a few of them, the truth is that there are 27 different types! This blog post will show you plenty of beard styles and give you some helpful tips on how to grow your own beard in the style that fits you best.
What is the most attractive beard style?
According to statistics, the stubble beard style is considered by women to be the most attractive of them all. On the contrary, the mustache and the goatee beard style are considered to be the less attractive beard styles.
1. Stubble Beard Styles
For those who aren't ready to go for a full beard, stubble can make an excellent alternative. Sitting between clean-shaven and a short beard, stubble is both practical in length and stylish.
Of all the facial hairstyles available to men, stubble is the easiest to cultivate. All you have to do to obtain it is just to stop shaving for a few days. It's also the easiest to maintain, and the one that suits most face shapes.
A study made by Northumbria University specialists concluded that women prefer men with stubble. According to the researchers, "stubbly men offer women the mix of both- not too strongly masculine, but mature".
Stubble also provides good camouflage for imperfections like acne scars and even skin pigmentation. Kept neat and trimmed, it's a style that looks as good in the boardroom as it does in a bar.
By the way: as a rule of thumb, the optimum growth period for the stubble is three to four days.
2. Short Boxed Beard Style
This corporate beard style is a versatile and office-friendly option for men who want to add a serious note to their faces. The ideal hirsute middle ground – kept tidy, but not overly preened – a short beard sits just as comfortably alongside a suit during the office program as it does down the pub at the weekend.
A well-trimmed beard will suit most face shapes, though you may need to tailor the angles to emphasize your best features and downplay your imperfections.
If you've got a round face, for example, you might want to reduce the length at the sides slightly to elongate the face. Similarly, leaving the sides slightly longer can help add width to a thin, narrow face.
If in doubt, ask a barber to tend to your beard with your next trim, then keep up the shape at home. It was never easier to look fashionable even homemade. Check out those essential barber tools. This guide might be helpful for you too, if you choose to maintain your facial hair at home.
3. Tapered Beard
Growing a full beard is one of those things that are decidedly harder than it looks. The fuller the beard, the more maintenance it requires and the more problems you're likely to encounter.
Of all the beard styles, the tapered beard is the hardest to take care of, partly because it's so complex. Guys with oval faces will have no problem making it work, but if you've any other face shape, you may need some creative trimming to ensure it fits you.
Slim, angular jaws, and narrow faces can be softened and rounded out by keeping the sides slightly longer, while round faces can be elongated by growing the hair at the chin longer and keeping the sides shorter.
You can also make a rounder face look thinner by growing the hair on the front of your face slightly longer than the stuff around the sides.
 "Regularly nip away at the odd rogue hair and keep it smooth with an oil or balm." -Sam Norsworthy, barber expert
4. Grey Beard Style
No, I'm not talking about the medicine man. I'm just referring to the men's beard that already became grey. Don't take it wrong: a popular quote says that "men are never old, but wise".
So, what better way to show the world how wise you became over the years than to be modern? Grey is an asset. You have to show people that you know what you look like and you accept it, moreover, you like it. It is a brave, masculine gesture!
If you're open-minded enough, don't be shy about your beard's color change. There are plenty of ways to wear it with style, doesn't matter its color!
5. Trimmed beard style
It was just a matter of time until everybody got used to the idea that men, nowadays, are wearing perfectly trimmed beards. Therefore, here we have a suggestion for you, in order to look impeccaby for every occasion.
This dyed beard, perfectly trimmed and carefully arranged can give you the aspect of a very stylish man, always focused on wearing a fresh and elegant look.
If you ever consider making it yourself, here I have for you a beard dye guide that works impeccably. Enjoy!
6. Beard Fade Style
Did you notice that fades are the hottest beard style trends in 2022? This unique, fashionable look is obtained by shaping a clean line on the cheek that fades down to the jawline. The beard is left in a goatee, natural, arced chin strap.
The beard fade style is one of the most carefully looking beard styles, so if you want to wear it, you'd better keep it fresh.
Give a try to this bold look and be ready to be a presence to remember this year, gentleman!
Find out in the video below how to do it by yourself in just a few minutes:
7. Bald Head, Hairy Face
Looking for some beard style inspiration before going bald? Then you've come to the right place! But there's one tricky thing before making this choice: the bald & beard combination requires choosing the facial hair according to your face and head's shape.
For example, if you've got a round face shape, you can choose a long beard style, while if you've got an oval face shape you should stick to a short beard style in order to avoid lengthening your face even more.
It's not an unknown fact that bald with a beard has become one of the best styles for men in 2023. Why? Maybe because research has shown that women find bald men with beards attractive!
If you think about shaving your head, you'd better grow a beard first. This beard style works best at any age and every length, so it doesn't matter if you choose the full beard, a goatee, or stubble, you'll rock. and the bald and bearded look will work well.
8. Van Dyke Beard Style
With this beard style, both the mustache and the chin beard are a little bit pointy, giving this beard style its distinguished and sharp look. With its clean edges and sharp trim, it is quickly becoming a preferred look amongst distinguished contemporary celebrities, from P. Diddy to Viggo Mortensen, Jeremy Renner, Christian Bale, and Johnny Depp.
This beard style has to be slowly shaped, using a quality shaver. Usually, the mustache has to stay untouched, and focus on the chin area by forming an inverted T. Well, good luck in wearing one of the best beard styles in 2022!
9. Goatee Beard Style
Also known as the "standard" beard, the goatee beard style is one of the classic, "old but gold" facial hair trends. It is a good option for men who would like to look presentable and classy without totally letting go of their beards. It fits best with the oval and round face shapes.
Make sure that you have grown a reasonable amount of hair to avoid over trimming or shaving. It would be best to visit a salon to achieve the perfect circle shape, as it can be a bit tricky. As soon as you have acquired the right look, you can carefully do the usual trimming and shaving on your own.
10. Power beard with mustache
If you feel like stepping away from fashion a little bit and try something new that's not overly radical, the beardstache is the optimal choice. You just have to be self-confident and have good tastes, and everything will come naturally to your look.
In this beard style that is trending in 2022, the mustache has to be longer and fuller than the surrounding hair. This look fits best the guys with a more prominent chin due to it drawing attention higher up the face. Celebrities like Jamie Dornan, Jeff Buoncristiano, and Chris Millington love this beard style trending in 2022. Do you?
"Life is like a mustache. It can be both wonderful and terrible, but it always tickles." -Nora Roberts
As a conclusion…
Hurry up to choose the best beard style trending in 2023. Go for a fresh, masculine, serious look. I bet you'll not only impress women but also your business mates!
Tip for barbers: Did you know that Goldie is a free barber appointment app? It lets you easily manage appointments and clients, send automated reminder messages, take deposits, full payments or tips online, and set up your online booking system. Save time and money with Goldie by downloading it for free from the App Store or Google Play.
Also, if you want to increase prices in your barbershop and don't know how, check out this article about how to announce a barbershop price increase without losing clients and get inspired.
Read & Write more about : write for us