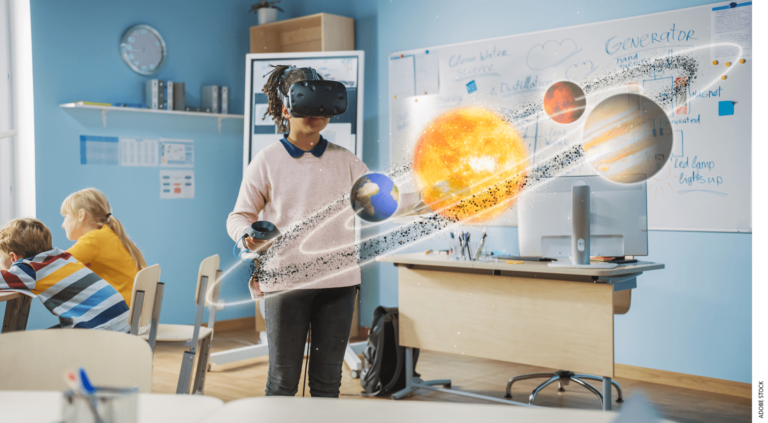 What will we be taught in the near future? What possibilities could the widespread application of Extended Reality (AR/VR) experiences offer, and how should educators and schools prepare for the changes to be in the future?
I am of the opinion that it is likely that I believe that the Metaverse can be multi-device accessible via Virtual Reality devices, Augmented Reality devices and mobile phones, computers…
But, thanks to these two aspects, we have seen in recent times the evolution of learning experiences, thanks, for instance, to videos, online classes, and podcasts or mobile apps which encourage self-learning via "pills" or short sessions.
So, in this article, we'll concentrate on the advantages VR as well as AR devices offer. Being aware of the fact that Augmented Reality will probably be the device that can have the highest degree of widespread use in the near future (when it improves the hardware capabilities).
Education and Virtual Reality
Virtual Reality training will be perfect for the simulation of the environment and interview this is being implemented. It is three keys: gamification personalization and assessment
In the wake of everything, we've looked at the three main concepts that I think will be crucial in the event that the Metaverse actually is discovered and entwined with the educational experience, which goes beyond the realm of immersion.
Three elements have played a major role in online learning, however, when combined with Virtual Augmented Reality and Virtual will be able to have a greater impact:
Gamification is learning by "playing", introducing elements of video games like screens and scores, as well as rewards… This could be even more exciting when VR/AR is introduced. Let's suppose that, with the advent of VR/AR, all things are feasible: what if not just do we move to Rome or learn something new by playing in the Escape Room? Escape Room?
Personalization: every experience will be different, Artificial Intelligence will be capable of personalizing every "lesson" and, at the same, the individuals will be in a position to interact with the new world which will, in turn, trigger various resolutions for the same issue.
Monitoring and assessment Monitoring and assessment: another thing that has already been happening through online learning is the increased ease with which a student's development can be tracked. It is possible to go further by using the Metaverse to personalize the whole training plan for the individual student. But there's a second side to this issue: How will teamwork develop as we tailor our training experiences? I would imagine that like the situation today we'll be confronted with a combination of both.
It seems like a fascinating future with many possibilities, right?
In this way, the educational technology of the future is promising virtual learning experiences where students will be able to, more than ever, be able to put their learning into practice. Furthermore, it is free of the collateral consequences a poorly-constructed test could cause on the ground. Now we can use essay writing services like Studycrumb, but what will be in the future?
Furthermore, the brain's ability to think through images. Wouldn't it be more enjoyable to learn about the past of Rome by moving to the city and seeing things in real-time? Immersion enhances the retention of knowledge and enhances students' enthusiasm.
However, all of this is taken to an entirely new dimension when it is combined with another important concept: Artificial Intelligence. Because of Artificial Intelligence, we'll be able to implement conversations, for instance, training that is generated in real-time to ensure that every practice or test is different from the last.
Another thing that virtual environments that are used for education create is attention. The magic word in instructing… How often have you been caught in a class by your phone and thinking of your items? How many times in your profession have you skipped training videos and given the correct questions to the test?
Since the introduction of technology like Virtual Reality, it will be much easier to concentrate on learning and doing homework. But, it would be recommended to expand the amount of work done prior to the virtual session and to reduce the time spent in the virtual duration to just 45 minutes, or 1 hour. This is the situation at Stanford which has begun its first class in VR and has achieved this using this method of pre-work and a shorter class.
In the end, Virtual Reality will break the barriers to training as its user-friendliness increases: let's look into the future and imagine second students who are part of the same class from various locations around the globe and with real-time translations into their own language, as well as interaction with our body without needing to use a mobile device or a laptop. Add to that all the aspects that we've just talked about… it is possible that we might be discussing the real revolution in online learning.
It appears to be a fascinating future that is full of possibilities, isn't it?