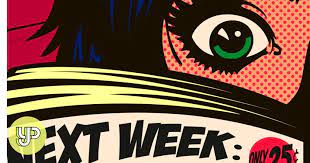 Marvel and DC have gained a lot of new fans with their increased cinematic presence, meaning a boost to the comic book industry. Unfortunately, visiting your local comic book store can prove expensive. Single issues typically cost $3.99, with milestone issues and variants costing even more.
Thankfully, you can save some money by using these sites to read comics online for free. No matter what kind of comics you're into, you should find them on these best sites for free comics.
1. Marvel Unlimited
Let's go straight to one of the big publishers.
Where do you go to read Marvel Comics online for free? Marvel Unlimited is the obvious answer, but most know it solely as a paid-for service. With a monthly or annual subscription, you get access to over 28,000 comics. Its corresponding mobile app is one of the best Marvel apps for comic book fans.
However, Unlimited offers a taster of series, also giving you the chance to try out its smart panel interface. There's a good mix of big-name characters and lesser-known heroes, so you can explore plenty that the Marvel Universe has to offer.
Of course, you'll see a lot of debut series, but keep checking because it further features entire miniseries for you to enjoy, including comics related to current and previous shows and films, like Marvel's Hero Project on Disney+. If you enjoy the app, you can join Marvel Unlimited with monthly or annual subscriptions. The full version includes digital-exclusive "Infinity Comics", creator and character spotlights, and plenty more fantastic features.
Where can you go to read DC Comics online? There's DC Universe Infinite, but that's not free and is region-locked. Fortunately, there's DC Kids, offering free issues suitable for kids.
2. DC Kids
DC is sometimes criticized for lacking the humor and accessibility Marvel is known for. You'll certainly get this impression if you watch Christopher Nolan's Dark Knight trilogy or Tim Burton's early 1990s Batman films.
However, the company's animations are much loved and heralded. DC Kids is an extension of that, giving youngsters a good entry-point into comics.
There's not a vast array of issues on offer, but it includes episodic releases like Shadow of Sin Tzu and premiere issues of Tiny Titans, Super Friends, and Batman: The Brave and the Bold. If you want to introduce the next generation to the medium, this is a perfect place to start reading comics online.
3. Libby
If you want to read comics online, Libby is an ideal choice. It's brought to you by your local library service, you get a whole host of free stuff to borrow for 21 days. Plus, if you're not sure you'd like a particular title, you can read a sample before borrowing properly.
There are sections for kids and teenagers, or you can just browse a wide archive of graphic novels, magazines, and even audiobooks.
You need a library card, but because this app is sponsored by local libraries all across the world, you can actually request a card from your nearest library. You can borrow up to 10 titles at one time and download them for free too, so if you're going on vacation and can't guarantee internet access, this is a top choice.
4. Dark Horse's Free Books
Dark Horse is a great heavy-hitter with the license for numerous much-loved franchises. The company's Free Books page is a reflection of that, which also acts as a great way of getting newcomers into comics.
Let's say you have a friend who loves Stranger Things. Get them hooked by introducing them to the free comics! Maybe you love playing Overwatch. Why not take some time away from the PlayStation by sampling Dark Horse's miniseries expanding on that world?
Other popular brands you'll find here include Minecraft, The Umbrella Academy, Hellboy, Avatar, and Mass Effect.
5. DriveThru Comics
You won't find the big two here: Marvel and DC are absent from the list of publishers on DriveThru.
However, there's a large collection of books with a variety of comics that span genres and styles. And you will find Marvel and DC's bigger competitors, like Valiant Comics, Top Cow, and Aspen Comics.
Most first issues are free, and if you like the series, you can buy subsequent issues from the store. Many of those that aren't free are available on a pay-what-you-want basis.
DriveThru's filters can be used to browse genres, formats, publishers, and prices. Use them to narrow down the selection of comics and start exploring. It's hard to know what you'll find here, but DriveThru is always a good place to read free comics online.
6. Amazon Best Sellers
You might not think of Amazon as a good place to find free comic books. But there's a surprising amount of free content available if you know where to look.
Start on the Comics and Graphic Novels Best Sellers list, then click Top 100 Free to see the most popular free titles available for download.
You can also filter the list by genre on the left of the screen, helping you find the comics you're interested in. The list is updated hourly, so check back regularly for new titles.
7. Digital Comic Museum
If you'd like to see the genesis of the comic book medium, check out the Digital Comic Museum. You can spend days reading free comic books from the Golden Age (1930s to 1950s).
The titles and characters may not be familiar—though Captain Marvel, now widely known as Shazam, does show up—but you can see how the Golden Age books had a strong influence on today's works.
You won't find modern comic books here. Nonetheless, it's fun to browse through the classic titles from 70+ years ago and see how the artwork and storytelling have changed. Today's publishers stand on the shoulders of giants.
8. Comic Book Plus
Established in 2006, Comic Book Plus takes a similar stance to the Digital Comic Museum, showcasing Golden and Silver Age comics in the public domain.
Except this site goes above and beyond the call of duty. It's an archive celebrating the whole genre, meaning it includes a number of features you won't find elsewhere. There are sections devoted to fanzines, pulp fiction, non-English comics, newspapers and magazines, adverts, booklets, public information posters, and even coloring books.
Comic Book Plus is a great resource for comic book fans, graphic designers, and historians. Once you start exploring, it's incredibly difficult to stop.
9. GoComics
Not all comics feature superheroes. Comics are a part of everyday life—that's evident from the number of humor strips you can find in newspapers. GoComics is your top resource for syndicated strips.
There are two subscription options: free and paid. Fortunately, the former is all you really need (although we encourage readers to support the service). GoComics offers a massive catalog including lesser-known cartoons and popular names like Peanuts, Dilbert, and Calvin and Hobbes.
Plus there are two categories for our favorite Monday-hating cat: Garfield and Garfield Classics!
Elfquest is an award-winning independent comic that has been running since the late 1970s. Every issue released before 2014 is available for free on its website.
If you like sprawling fantasy worlds, this is for you. There are several series available that detail the adventures of different characters and story arcs.
The series has now concluded with the Final Quest story arc, available from Dark Horse. The publisher has also released the complete ElfQuest series in collected editions. But you can get a good head-start on the series by reading the rest of the comics online for free.
Start Reading Comics Online for Free Now
Comics are enjoying a resurgence, and you can take full advantage of this if you know the best comic book websites to visit.
These sites let you read comics online for free. You can revisit your favorites, explore the works of different publishers and creative teams, and get a glimpse into the past to see what the Golden Age of comics was like. All free of charge.