Textured ceiling pendants in concrete or stone


When it comes to decorative LED ceiling lights, cement pendant lights are a stunning addition to any space. Add a pop of color in the mix and you've just upped your design game. These gorgeous pendant lights combine speckled cement balls with glass orbs—a striking combination for a bedroom, entryway or dining area. Experiment with groupings that make each look unique to you. Mix the colors, mix the shapes and make a statement.
Design fact: Texture plays an important role in interior decor. Just as fluffy pillows in a bedroom add an element of cozy comfort, beautiful ceiling lights, table lamps and floor lamps with a textured finish also add to a room's ambiance and WOW factor.

Statement-making lights that add drama overhead

Crystal chandeliers used to be the only glamorous ceiling light displayed in grand entrances and at the top of spiral staircases. Today, glass chandeliers and fancy ceiling lights are still a popular choice for these locations, but they are also ideal for creating a statement in dining rooms, bedrooms and even bathrooms for a dreamy, spa-like setting. You can also use dramatic metal ceiling lights or any eye-catching, jaw-dropping pendant like the one shown here, to create a breathtaking focal point above a sofa, bed or dining nook.
Design fact: Ceiling lights don't need to be centered on the ceiling. Most people think ceiling fixtures need to be above a dining table, in the middle of a living room or at the center of a bedroom or office ceiling. Why not break the rules? Have a gorgeous chandelier hanging above your bed or a wispy feather pendant over a baby's crib. Imagine a stunning ceiling light above an L-shaped sofa in the family room. Experiment to see where your ceiling light catches your eye and hang it there.
Luxurious shimmering metal ceiling lights in unique shapes and sizes
Sometimes thinking outside the box and adding an unexpected element to a room has the most appealing and visually pleasing outcome. Today's breathtaking decorative lamp styles, whether they are for ceilings, walls, tables or floors, are designed to be used wherever and however you want. Why make the usual light placement a habit? Take the opportunity to make a statement and hang a decorative LED ceiling light in a captivating design where it's least expected.
Design fact: You can add what would traditionally be considered a fancy ceiling light in a casual space and a casual light in a formal area. If your room is large enough, you can also mix and match ceiling light styles, using both casual and formal in the same space. Your home, your choice!
The flush mount ceiling light that works solo or in multiples
Minimalist style has maximum impact. This flush mount ceiling light is subtly sophisticated on its own as a room's primary light source but look how it changes the entire look when you line the ceiling with a few of these beautiful ceiling lights.

Design fact: Flush mount ceiling lights used to be reserved for entryways and hallways. Today, you can use them anywhere you want, and the more the merrier! Thank goodness times have changed, along with the desire that many of us have to create homes that reflect our individuality and unique style.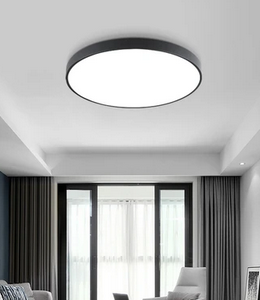 Sleek decorative lights that raise the bar as elegant art


When it comes to eye-catching overhead ceiling lights, sleek linear looks are a popular choice for many reasons–they offer great ambient lighting for a living room or dining room and they don't take up much space in the room. They look great as solo lights but are also stunning when paired.  Try to think beyond the living room when considering ceiling lights. Why not replace your bedroom table lamps with hanging ceiling pendants that offer plenty of light for reading in bed.

Design fact: Several ceiling lamps are available in different configurations so you can hang them in many directions. Creativity is key in interior design, especially when it comes to lighting.
Head-turning ceiling lamps can make you the talk of the town.  Be sure to browse the magnificent styles and discover gorgeous floor lamps and table lamps while you are at it. If you haven't shopped for decorative LED ceiling lights lately, you're going to be in for a very pleasant surprise. Happy light shopping!