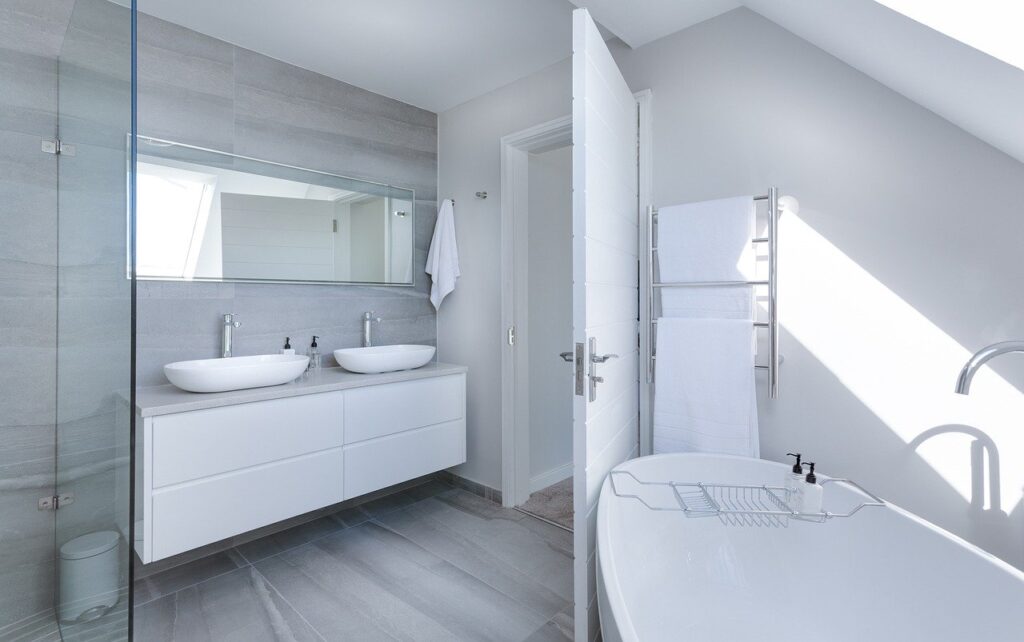 Up until recent years, bathrooms served only with the purpose of being a functional, utilitarian space. However, with home interior becoming increasingly popular, in addition to the introduction of bathroom gadgets, the use of a bathroom have become a place of wonder, relaxation, and you're very own mini home spa. Technology and gadgets have enabled bathrooms to become a place of chic and sophisticated design, alongside a luxury experience. And not only this, but bathrooms are also a sought-after room in any property, so if your bathroom oozes luxury and elegance, it can also add value onto your property. So, if you're wondering "how can I sell my house fast?" maybe upgrading and adding gadgets to your bathroom is a great place to start, and here at We Buy Any House have you covered.
#1- Floating Vanity:
If you're looking for an airy feel between the bottom of the vanity and the floor, then a floating vanity is a great option. It can be as simple as a solid plank of wood with a vessel sink or can be adapted to have double sinks and drawers for storage space. Floating vanities are a sleek and sophisticated bathroom upgrade that gives your bathroom a more spacious feel.
#2- Motion Activated Toilet Light:
During those late-night toilet trips, there's now no need to turn the light on and disturb everyone. The device works by turning on automatically when you are in close proximity to it. The light stays on until 110 seconds after you leave the 6-foot range of its motion sensor. Using LED lights, there are eight colours to choose from and two modes of light.
#3- Frameless Glass Showers:
If you want to instill some luxury into your bathroom, then invest in a glass shower door to instantly add an elegant feel and also create more space to the room. Glass shower doors often lack a ledge or lip to step over to enter the shower, which makes it appropriate for aging family members or anyone with mobility difficulties. Glass showers make the room look brighter and more airy, and are easy to use with the simple use of a squeegee.
#4- Hairdryer and Tool Organiser:
If your bathroom is on the smaller side, this elegant, strong, anti-rust piece of equipment is a great organised space saver. It's efficient for storing your hairdryer, and detachable cups that are easy to clean. It helps keep your bathroom organised and neat.
#5- Chandeliers:
Add a touch of glamour to your bathroom by installing a chandelier light fixture. It's a quick easy way to upgrade the space and having a pretty fixture to look at while you relax in the bathtub or lounge is a great feature. A top tip: if you put the chandelier near a window, the chandelier will reflect the light and create a gorgeous iridescent feature in the bathroom.
#6- One Handed Soap Dispenser:
Regular soap dispensers are a thing of the past. Introduce a one-handed soap dispenser into your bathroom as a sleek operator. Due its mechanical nature, you can use the dispenser without touch- ensuring that the pump head stays clean and germ free- which is ultra-important in a society dealing with an ongoing pandemic. The device works with all kinds of soap, and comes in two different colours- green and grey.