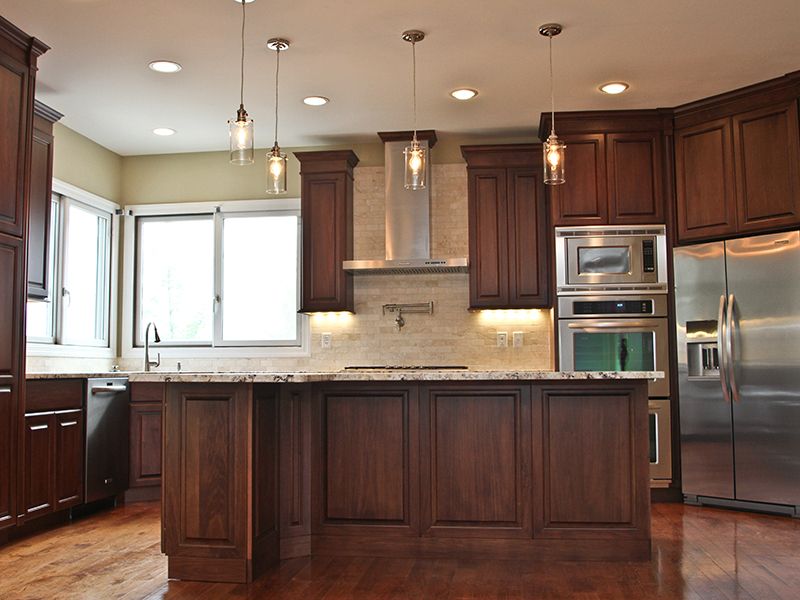 Walnut is often the classiest choice when it comes to wood crafts. Carving projects are best accomplished with walnut wood and it seems like the timber is an impressive choice for kitchen furniture. The dark coloured wood is especially a great choice for kitchens which are rigorously used.
The wood is dark and has medium hardness which gives it strength to endure standard use. Containing interesting swirls and grains walnut wood is truly charming and it's definitely the timber you want your kitchen to flaunt.
Benefits
There is a plethora of reasons why walnut kitchen cabinets are one of the choicest of furniture available. If you are interested in investing in walnut cabinets learn more about the benefits you can derive from owning such classy furniture. Have a look below:
Beauty
One of the biggest reasons why walnut cabinets are more popular than white shaker cabinets is the beauty of the wood. In fact the wood is chosen over other dark wood varieties owing to their classy appearance and smooth texture.
The fine grained timber is extremely classy in appearance and has swirls accompanied by intricate grain patterns which are rarely found in the lesser variety. The extremely beautiful wood adds character to the kitchen.
Durability
Traditional or modern walnut cabinets hold a reputation for being durable. Do you know why? The timber is incredibly dense which also makes them considerably durable. Although the wood is not the hardest of all, yet it has a better capacity to resist dents and chipping than lighter variety wood crafts like white shaker cabinets.
If your kitchen gets wet often walnut wood is certainly the choice to settle for as they can withstand moisture to a great level. Being less porous by nature, the wood has an immense capacity to resist impacts of moisture, which make them a pretty obvious option for widely used kitchens.
Care for your walnut cabinets
The rich hardwood variety is an attention seeker. It needs the same level of care as other hardwood varieties. However, experts say cleaning them isn't too difficult. By simply dusting them with dry lint, you can achieve the desired looks of the furniture. In addition, they have even said that dry wiping might not always be efficient for cleaning a layer of dust settled on your walnut kitchen cabinets.
You can use very little amount of water and mix it with mild detergent to not just get rid of the layer but at the same time save it from stains. The process is a lot time and cost saving. You rarely have to worry about getting it waxed or treating it with any kind of special product to retain the looks of your walnut kitchen cabinets. It's a fact, upon doing so the furniture can face huge damage. Chances are it might acquire an undesirable yellowish tint over years.
Buying walnut cabinets
If you are interested in walnut cabinets we will recommend you go through websites of authentic manufacturers. Make sure you are bringing home solid walnut wood and not something with walnut veneer.