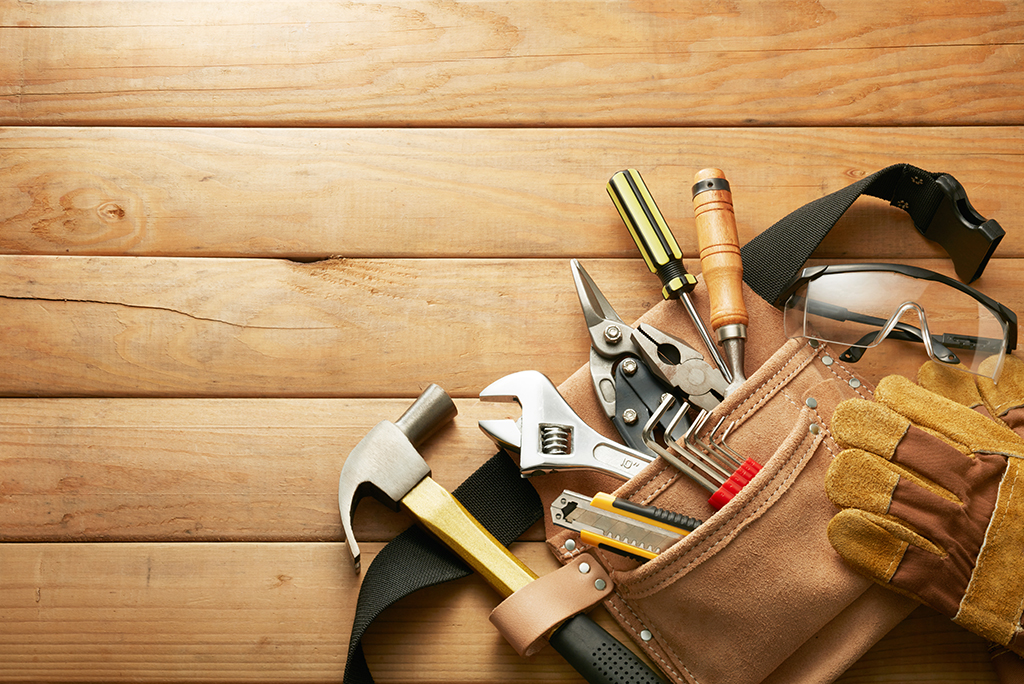 Home repairs often come at the worst time and calling out a professional to help to fix them can be time-consuming and costly every time you need anything restored or assembling a piece of furniture. Although you are not a professional, sometimes you need to change a few light bulbs, changing zinsco breakers, unclog a blocked drain; there are many online platforms to guide you step by step, fixing most problems yourself.
With just the right tools, you can face almost any repair in your home without waiting a few days and expensive call-out fees. These tools can be of enormous help when you decide to embark on a DIY renovation project. Sometimes, when you assemble a piece of furniture yourself, manufacturers can fall short of sending all the equipment you need, so you need to have a few essential tools in hand. Here are a few tools and home repairs you can do on your own.
A Toolkit with the Essentials
One of the unspoken household requirements is that every home needs a toolkit with essential items. Whether you are a household who loves taking on DIY projects or not, there are a few basic tools that can help you fix minor repairs on your own. A typical tool kit consists of assorted ratchets and bits, a tape measure, one knife, two or three screwdrivers, a pair of pliers, a hammer, and about six wrenches.
Many of these tools may not be needed regularly; however, some of them can take care of minor emergencies and save you from having to call out a professional unnecessarily. For easy use, tool items must have a rubber grip and are securely stowed in the toolbox.
A Magnetic Level
When you think of a DIY shelf project, doing repairs on an unstable table, or hanging picture frames, one of the essential tools includes a level. This tool's primary function is measuring the level of accuracy of an object, using small bubbles inside vials as an indicator. There are various level designs with different angle measurements, 0, 30, 45, and 90 degrees. Nowadays, tool manufacturers have magnetic levels, making them more efficient and easier to use.
An Assorted Nail Kit
Even though nails apply when hanging objects as much as a level, they come in different shapes, sizes, and functions, worth mentioning separately. A nail kit includes picture hangers, wall anchors, cup hooks, push pins, screws, and nails. The most common need for screws and nails is usually reinforcing a loose cupboard door, or hanging a picture frame, complemented by a hammer or star screwdriver.
A Folding Step Ladder
Changing a light bulb may seem like an impossible and complex task without essential tools like a step ladder. A step ladder is used to reach many high places around the house; however, when changing light bulbs and fitting, a ladder can bring you closer, making the task that much easier. It is recommended to get a folding step ladder for safety reasons, offering you support when you're alone.
For additional support and as a safety measure, many step ladders are lined up with rubber lining. Also, try to get a ladder long enough to reach the ceiling and compact enough to hang pictures and fix lower shelves.
A Roll of Duct Tape
You may be wondering why you need duct tape around the house but keeping a roll in the place will help sort man DIY repairs and headaches. A maximum strength duct tape is designed to waterproof, seal, and bond objects, suitable for glass, plastic, wood, and steel materials. Although it's hard to determine the tape's breaking point, it is reliable enough to repair any household object.
Super Glue
Speak to any person who loves doing small DIY projects, and they'll tell you super glue is one of the items a tool kit should be without. A good quality superglue should bond items like paper, leather, rubber, ceramic materials, metal, wood, and plastic in less than 10 seconds. There are several repairs you can use super glue to fix: handing a paper towel roll, fixing a splintered shelf, and many more. However, it may be somewhat annoying when the glue sticks to your hands, so remember to don your latex gloves when you use them.
A Cordless Power Drill
Sometimes you cannot get every tool in the hardware store, but if you only had one choice of a power tool, a cordless power drill should be your pick. A cordless power drill is one of the most useful and portable, making the task of screwing and unscrewing nails accurately and effortless. This tool is excellent when you want to mount a TV on the wall quickly or assembling a piece of furniture like a table. Sometimes screwing small nails only needs a hand screwdriver, but when you need to screw something into a stud or beam, a power drill is your friend.
A Sink Snake
Having a clogged drain has many unwanted outcomes, like damaged pipes as a result of flooding. Fixing a blocked drain may be overwhelming and seem like a task only a plumber can fix. There are severe damages that only a professional can identify and repair, but there are a few tricks you can try yourself before resorting to a plumber. One of the most valuable tools when it comes to a clogged drain is a sink snake. Often, this tool does the trick and can save you time, money, and the material potentially damping in flood.
A Stud Finder
If you've never had to hang a picture on drilled to fit a floating shelf, you may deem a stud finder useless to you. The day you need to do any of these projects, a stud finder can help you through this process without the risk of hitting pipes or live wire, and as you can imagine, that could cause severe damage. A stud finder helps detect any studs in the wall you intend to drill; if there are any, you may not need to drill unnecessary holes.
A Plunger
A plunger is probably one of the simplest objects you can have in the house. However, when the bathroom gets clogged up and starts flooding, a plunger becomes an essential item to have. A plunger's primary use is draining any clogged-up toilet and having one with a rubber grip makes it easy to hold and use.